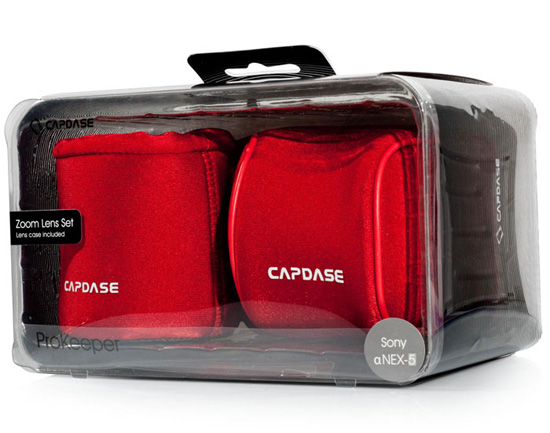 Time for a quick new gear review. This is the first of a few I'll be doing so let's start small. Cases for your cameras – a tad boring some might say, but often necessary when you care about looking after your shiny new stuff…
I recently bought the Sony NEX-5 as a portable, take anywhere decent camera (you can read my brief thoughts on getting it here).  I almost always buy some sort of case for my cameras but hadn't got around to one yet for this little badboy. As luck would have it, the kind people at Lovecases.co.uk came across my NEX-5 review and thought they'd send me one to test so here you go. First thing you'll notice is the colour. It's red. Bright red, and no getting away from it. Luckily I like red so that's ok with me but some people may find it a bit off putting.
This particular case I received (the Capdase mKeeper) comes in 3 component parts – a main soft wrap around cover to protect the body, a moulded rigid leather base that the NEX5 attaches into and fastens to the cover, and a separate soft moulded lens pouch to house the Sony 18-55mm kit lens when not in use.
Each part works well, and after a bit of a struggle attaching the wrap around soft case to the leather base I actually found it to be pretty good, and nice to use. The best feature of this case design is you never actually have to get your camera 'out' of it (if you don't want to). The soft wrap around cover partly unfastens and you effectively peel it back and down to reveal the camera sat in the mount with the screen and all controls fully accessible.
I think my favourite part of the design is the moulded leather base – it's sturdy, suede lined, and when it's on it actually looks quite smart, accenting the design of the body whilst offering up some decent protection to the base and sides. This is useful for someone like me who likes to stick cameras in strange places and on odd surfaces when I don't have a tripod to hand.
My only criticism would be that with the version I received, the wrap around soft part is designed to fit the NEX-5 with the 16mm prime lens on only. However, I understand there's also now a version that's effectively much longer to accommodate the 18-55 kit lens. This will obviously make it a bit bulkier to carry but the option is there either way, so take your pick.
So, in summary:
– Designed to fit the Sony NEX-5 perfectly
– Stylish design with good protection
– Allows access to all controls
– Moulded base with soft suede lining
– Main cover is made from high quality water-repellent neoprene
– Complete with water-repellent lens pouch
As a quick bonus, below is a shot recently taken using my NEX-5 and Sony 16mm prime lens. It was part of an architectural commission, and I snuck it in with the rest of the images from the shoot to see if  the ultra picky eyes of architects could discern the difference between a £400 camera and one costing much much more, with vastly superior glass too. No objections as far as I know at the moment, so that's one up for the NEX-5!
> See more from this particular architectural commercial assignment: Architectural commercial photographer Manchester
by Dan Dunkley
Post Tags:
Browse Timeline
Comments ( 1 Comment )
Add a Comment