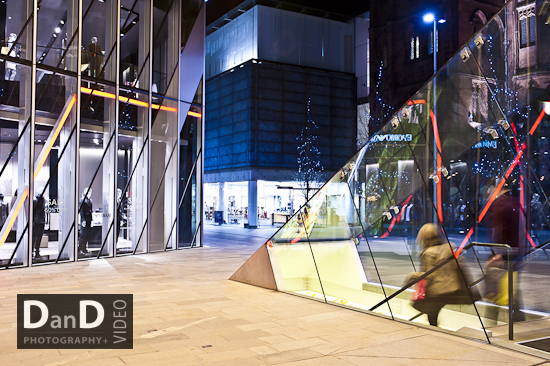 I recently completed an architectural assignment for Sheppard Robson Architects in Manchester. The Spinningfields site off Deansgate is home to several of their projects, and I was commissioned to capture aspects around the Avenues and other prime buildings/ retail spots and features….
It's all about the light
…or lack of light I should say. This time of year can be tricky for architectural photography. More often than not the only key light available to illuminate a building is the big fiery one in the sky, and as any commercial photographer in Manchester knows, that's in short supply at the best of times.
So, after several weeks waiting, a crisp, bright (and brass balled cold!) day finally arrived and I was able to crack on.
I was looking forward to this architectural assignment for several reasons, two of them being new bits of kit I was keen to test out on a commercial shoot. First up was my newly acquired variable ND (neutral density) filter. There are lots of these around on the market now, but in case anyone doesn't know what they are, you basically stick one on the front of a lens to limit the amount of light entering the camera. And the 'variable' ones allow you to twist and control the amount of blockage going on from 2 stops (not a lot) to around 8 (a lot), all from one unit – ergo saving you time, weight, hassle and cash.
Dummy explanation out of the way – why would you want to do this you may ask? Well, photographs of buildings are all well and good, and as an architectural photographer I can appreciate a good building in its own right. However, buildings and the built environment are all about people, really, and it's a well established technique in architectural photography to get people in the shots – but with a bit of 'movement' going on.
There's two reasons as I see it for this. Firstly it just looks good, and makes the image look more dynamic. Secondly, when you can naturally blur out the faces of people it can circumvent the thorny issue of consent, so it's win win.
So, the (variable) ND filter enables you to control the amount of light and therefore allows you to get that shutter down to a slow enough speed in daylight to capture this sense of movement and add motion blur. I generally find between 1/8 and 1/15 sec a good range to get the look whilst still being able to tell it's a human being. If you go too slow people start to look too ethereal/ wispy and odd.
Keep it steady, Edward
At shutter speeds as slow as this you obviously run the risk of blurring the whole shot: people, buildings, the whole caboodle basically. So to keep everything that you want to be crisp and in focus you need to get that camera mounted on a good tripod/ head quick smart. This brings me to my second bit of new kit I wanted to test out – the Manfrotto MH055M8-Q5 055 (Manfrotto, your catchy naming convention gets better and better).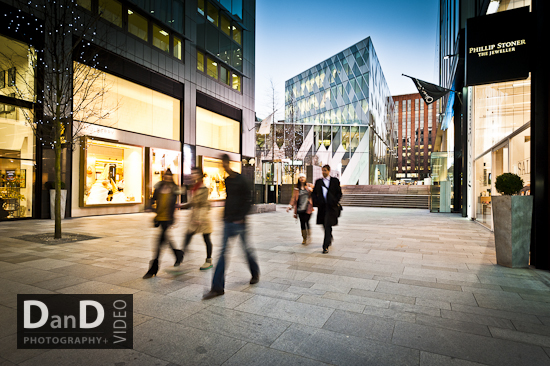 This is a relatively new head from the Manfrotto gang, and its unique selling point is it's a hybrid photo-video unit. At the flick of a switch (well, lever thing really) you move between photo and video mode. In photo mode the extra vital axis of movement kicks in for taking vertical (portrait) aspect shots. In video mode this is locked off, but all the while the fluid cartridges are working their magic allowing for silky smooth lateral/ vertical pans and tilts whilst using your HDSLR video.
For someone like me who shoots commercial photography as well as video this is a real bonus, and I think this bit of kit deserves a separate review in its own right, so watch this space.
Your fire is dying, frauleine
As the light began to fade towards dusk it was time to get a move on. Sheppard Robson had specifically asked for dusk and night shots of a particular building/ feature so the clock was ticking. As landscape photographers are well aware there is a phenomenon known as the 'golden hour'. Actually there are two golden hours really – first light and last light – when landscapes (and buildings for that matter) take on a certain charm for about 45 mins to an hour.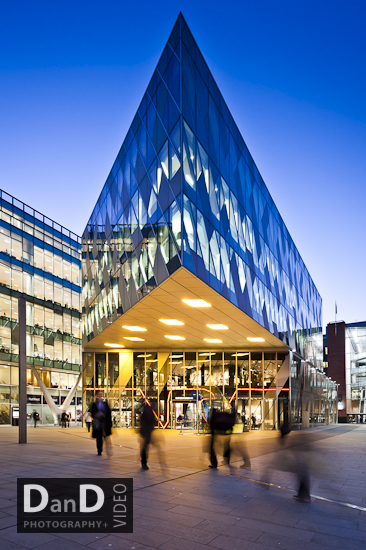 The Emporio Armani store frontage, and the glass prism entrance to the Australasia restaurant in front of this were my main targets for the low light/ night shots. No need for the ND filter now and I managed to get some super-wide frames of the Armani building as you can see in the shot above, still using the slow shutter technique to capture people movement.
The Australasia restaurant entrance was top of my list to try and capture in an interesting way. Finding a 'pleasing' aspect and angle to shoot was really quite hard given its situation and backdrop, and the fact that I was relying on ambient light only. I'd also been asked to try and get the Emporio Armani store reflecting in the glass prism if possible. Tick…
Job done, now very cold, and need a nutty ale. Some more shots from the shoot in the gallery below. Enjoy:

by Dan Dunkley
The plug
You you are an architect, architectural firm, construction client or property developer in need of superior still photography to showcase your work or projects, please get in touch with me to discuss the details…
Architectural Photographer Manchester | Architectural Photographers Manchester | Manchester Architectural Photographer | Manchester Architectural Photographers | Architecture Photographer Manchester | Architecture Photography Manchester |
Post Tags:
Browse Timeline
Comments ( 3 )
Add a Comment