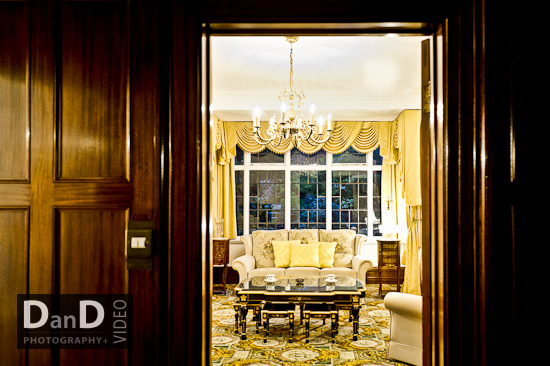 Is there a minimum age you have to be to move into a nursing home? Is your mid-30's too young? Shame really, as my latest interior assignment was for luxury nursing home Barton Park in Southport, and a very nice place it is too…
This was my first assignment for Barton Park, and my main task was to try and capture the luxurious feel of the place for their new marketing drive. This isn't your average 'old folks home' though, so not too hard a job you might say when a place looks as good as this.
But, interior photography isn't as easy as some might think, and it was therefore a good reason to try out some interior lighting techniques and also my latest lens acquisition – a Nikon 50mm 1.4 which I hadn't had chance to use properly on a job yet. (I'm going to do a few new gear semi-reviews on my blog in the next few weeks as I've picked up the odd bit of new kit here and there recently).
My go-to lens of choice for most interior (and external architectural) work I do is my Nikon 14-24 2.8, normally at the 24 end. It's just a brilliant piece of equipment combined with a full frame camera like the D3. The entrance hall shot above was taken with this lens on my first flying visit just before Christmas and is actually an ambient light only shot, but has had some exposure blending of 3 different raw files for extra goodness in post.
Barton Park has some fine independent living quarters, the next few shots showcasing the dining, sitting room and fireplace of one of these…
There are some interesting variations in lighting going on in the shots above (if you're interested in lighting that is). The dining room shot has off camera remote lighting with a shoot through brolly camera right powering at the table/sofa area, and a CTO gelled speedlight in the fireplace in the distance, more on that in a mo.
The sitting room shot is lit using ambient light only, 1/25th at iso 1600. The fireplace shot was a bit more involved with a shoot through brolly 3/4 flagged off camera right, and a CTO gelled speedlight behind the fire grate to try and simulate a nice warm atmospheric glow. Trying to highlight the detail and beautiful piece of furniture that is the cabinet on the right quarter in the fireplace shot above was tricky. As with a lot of photography – trial, error and experimentation was the order of the day, and flagging off the light at camera right just the correct amount got the desired result, by avoiding too much reflection and hot spotting on the carved wood.
The fireplace shot has also had some perspective correction in post to make sure every line is straight and perpendicular. No matter how hard I try with this type of shot to get it 100% correct in camera, I always have to make tweaks. With architectural photography in general, perspective corrections are often necessary in post, even if it's just a few degrees. A tilt-shift lens helps of course, but even then when you look at it back home on the big screen, there are always some tweaks to be made.
A few more shots from the day:
> See more from this shoot on my main website: Commercial interior photographer North West
by Dan Dunkley
Post Tags:
Browse Timeline
Add a Comment