Another short clip from a series of tests I'm running with the mavic 2 pro. Trees, grass and foliage are a well known 'stress test' for consumer/ prosumer and even pro (whatever that means these days) drone cameras with their smallish sensors and modest bit rates. The location I'm filming these tests at is becoming a firm favourite with its layers of trees in the foreground and mid ground and distant hills and buildings about half a mile away in the distance.
Today's test was specifically to look at autofocus vs manual focus set to infinity, and see which is basically the best. Nailing focus is rule 101 for stills or video as getting the best focus possible obviously results in the sharpest/ best clarity footage. It was however one of those odd sunny but hazy days so probably not the best weather for this kind of test, but you work with what you've got don't you.
In the above video splitscreen the left side is autofocus mode with the focal point selected on the distant hill under the castle .
The right side is manual focus mode and simply selecting the infinity symbol.
Peaking was set to on for both clips and both showed exactly the same data/ focus range i.e. the tress in the foreground and trees/ hills in the background were all highlighted in red as 'in focus' for both clips.
All PP and colour correction done in Resolve 15 and is IDENTICAL for both clips, with 2% sharpen done in post.
Mavic 2 pro in camera picture settings were:
– 4k HQ
– DLog
– h265
– 0,0,0
– 25 fps
– f4.0 (widely regarded as the best, sharpest aperture for this camera)
– ND 16 polarpro cinema filter – shutter was around 1/60th
I've read varying reports that the manual infinity focus feature was messed up in a recent update, but from my initial observations I would say it's working well, and the footage actually looks 'better' with slightly more clarity on the right hand side clip when pixel peeping on a 32 inch 4k monitor. See this screen capture of the centre of the image at 300% magnification in Resolve: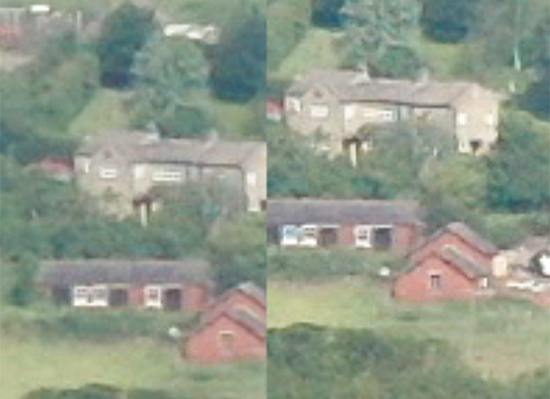 What do you think? I would say there's marginally more clarity on the buildings in the right hand side clip (MF infinity). Slightly more detail to be seen in the windows of the red building in the foreground for example. Pixel peeping at 300% isn't something I often do though, so I would say the difference is very very minor. So, is MF set to infinity better than AF??? I'd say that very slightly it is, for this test anyway. I wouldn't say it's significant, but every bit helps.
Post Tags:
Browse Timeline
Add a Comment