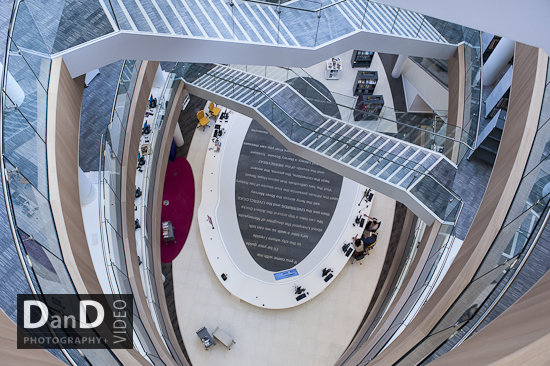 One of the biggest library development projects of recent times, Liverpool Central Library opens its doors again soon after a major re-furb, and I had the pleasure of photographing the interior for a client this week. The building is now a striking combination of 21st century modernity mixed with grade II listed parts, including the famous Picton and Hornby reading rooms, now restored to their former glory.
This last shot shows the pretty spectacular domed ceiling of the Picton Reading Room after full restoration, a lot of paint, and gold finished bosses. It's hard to appreciate the sense of scale on this small image, which really needs to be seen large to appreciate the detail.
A lot of work went into this photograph (aside from being very precariously balanced on an upper reading level to try and get the best spot for symmetry, it's 7 blended exposures and a lot of post production and perspective correction).
It's images like this where the Nikon D800's enormous sensor really comes into play. When viewing on screen at 1:1 I can almost read the titles on some of the larger book spines on the shelves. It's the first time I've been properly impressed by the difference the D800 can make to my architectural work, especially the amount of perspective correction the extra resolution allows, without losing quality. The detail natively captured in camera and clarity over the D3 for example in situations like this, is also pretty smart.
I hope to do some more detailed posts soon about this and some other recent architectural interior assignments, including some more techy posts, so look out for those if interested.
by Dan Dunkley
Post Tags:
Browse Timeline
Add a Comment