This is a building that tends to split opinion. A concrete carbunkle to some, a thing of odd abstract beauty to others. Marmite towers if you like. I personally love it, and that's not just because I was paid to photograph it recently….
As someone who spent many of my formative years not too far away from where the Hepworth now straddles the river Calder in West Yorkshire, it was an interesting assignment for me. I hadn't been back to Wakefield since I last stumbled out of Rooftop Gardens (a 'nightclub' if you're not aware of this legend) circa 1993.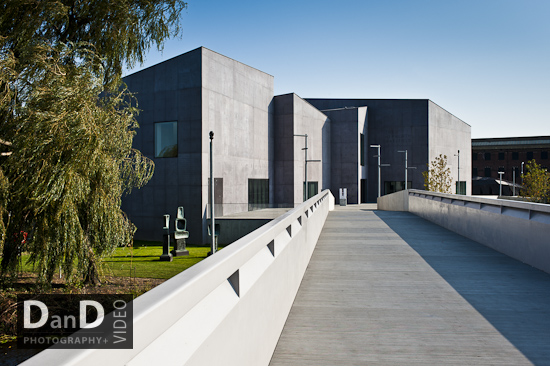 It would be fair to argue it's an odd spot for a cutting-edge contemporary art gallery. Sadly, the glory days of northern industry left this part of Yorkshire a long time ago, so I was interested to see how it looked now I had the wiser eyes of a commercial photographer, and how the Hepworth would fit in amongst the landscape of Allied Carpets and the usual edge-of-town drudgery I vaguely remembered from my younger days. (I also didn't really appreciate old mills when I was a youth, some of which do still juxtapose the Hepworth).
I personally think the Hepworth Wakefield is a credit to the landscape, but I'm not here to review its architectural merit or argue the plus and minus points of its location. I'll leave that to the AJ and the like.
I was there on assignment for Sto AG – an international architectural specialist in external insulation, rendering, interior plasters and acoustic ceilings. The swish cafe inside the Hepworth is home to Sto's interior work, and aside from capturing smart exteriors of the building I was tasked with photographing the cafe interior, paying particular attention to the ceiling work. Sound easy? It's not.
Lighting was a real challenge for this interior part of the shoot. Making sure everything looked crisp and bright, with no colour tinge to the overhead lights was veeery tricky.
Sunlight was also streaming in through full length windows at one end of the room (not the ones in the shot above) and therefore getting nice even light and exposure over the whole shot, particularly the ceiling was pretty tricky to say the least. I ended up using a combination of long exposure and off camera flash (Elinchrom quadras) firing from the floor to the ceiling to make sure the feature my client wanted showcasing was looking its best.
All in all, a great building, and a pleasure to photograph.
A couple more external shots from the day…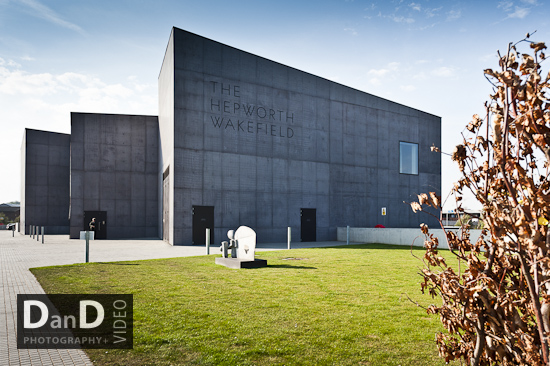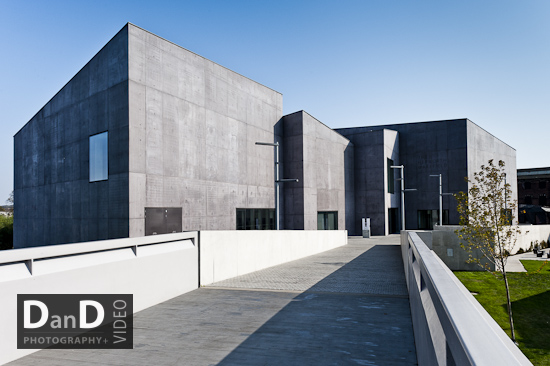 by Dan Dunkley
The plug
If you are an architect, architectural firm or supplier in need of superior still photography to capture your work on location, please get in touch with me today to discuss the details.
West Yorkshire Architectural Photographer | Yorkshire Architectural Photographers | Architecture photographer West Yorkshire | Architecture Photography Yorkshire |
Post Tags:
Browse Timeline
Add a Comment