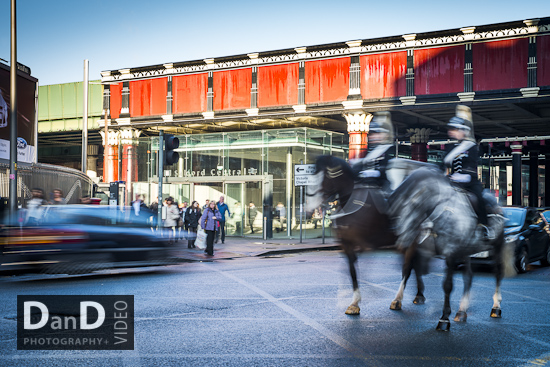 Yesterday morning I happened to be in central Manchester on commercial/ architectural assignment around Salford Central station and the incoming New Bailey development site adjacent to Spinningfields. The still above is an unplanned capture from the funeral of PC Fiona Bone, which took place the same day. The 2 ceremonial mounted police officers coming into right of frame are just ahead of the car procession.
I had my camera set up, ND filtered and slow shutter speed readied to capture dynamic movement and motion blur of busy commuters exiting the rail station, and was snapping away oblivious to my surroundings. Hence the slightly ethereal blur  and movement on the horses etc you can see above.
One the strangest images I've taken for a while, but there's something about it that I really like. It was also quite humbling to be present at such a moment, and I just wanted to share the image.
by Dan Dunkley
Post Tags:
Browse Timeline
Add a Comment