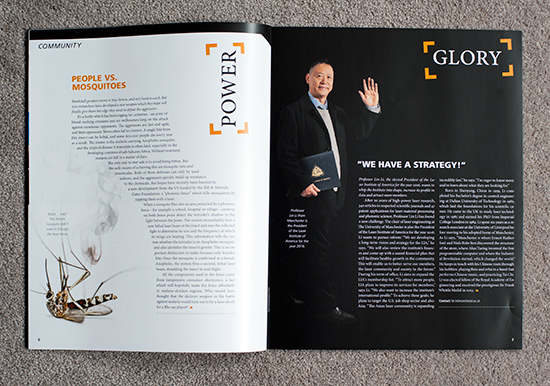 A recent editorial photography assignment in Manchester tasked me with capturing Professor Lin Li, the newly elected President of the Laser Institute of America. He's actually based at Manchester University, so not much glamorous travel was involved for this one.
It's funny how clients often have a very different idea to a photographer of what might make the best picture. Prof Li works with lasers, so I immediately got a bit giddy at the prospect of what might be involved, and the scope for some potentially great photos with various off camera lights beckoned in my imagination (if you're a photographer reading this you probably know what I mean). However, the final brief was to mainly capture the subject walking and waving to camera, against a plain-ish backdrop so he could be cut out in post and placed on a black background. So we ended up with the shot you can see in magazine above. Not the most exciting picture in the world granted.
You might not think it but it was actually very challenging to achieve this shot in the location we had to work with,  and it's exactly what the client asked for so they were very happy with it in the end. Happy client = happy photographer.
I wasn't going to leave it at that though. This man works with lasers. And robots for god's sake.  So with the limited time we had I stuck Prof Li in front of the biggest bit of sciency equipment we could access on the day and went to my trusty bag of speedlights and coloured gels to pull off a few more hardcoresciencepics, and here's one below. Personally I'd much rather have run with this one, but there you go…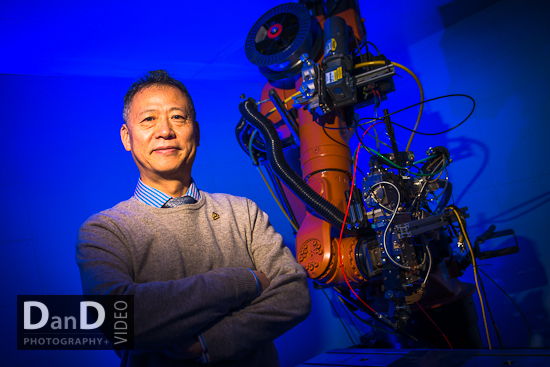 by Dan Dunkley
Post Tags:
Browse Timeline
Add a Comment